European Triode Festival (ETF) 2012
Write up by Pure Sound.
I just spent an enjoyable weekend with Pete (I should Coco) over in Berlin at the ETF. The ETF has been running annually for about 12 years now and moves every 2 or 3 years to different venues. It has been in Denmark, Netherlands, Germany, France and now back to Germany for 3 years. It is a gathering of some very serious audio DIYers many of whom many have high powered roles working in the field of electronics but who do audio as a hobby. There are also some industry attendees but the event is strictly not commercial more a gathering of like minded people sharing ideas & their experience. Industry figures there this time included Per Lundahl, Pieter Treurniet of Tribute transformers, the owner of Silvercore a German transformer company, Frank Schroeder & Thomas Schick both tonearm makers who were organising this time, Morgan Jones of Valve amp book fame, Joe Roberts founder of Sound Practice magazine & now spokesperson for the Koreans who show Western Electric gear at Munich each year along with Silbertone. JC Morrison, amp designer for Silbertone, Guido Tent of Tentlabs, the owner of Martion (a German hornspeaker company) and doubtless others I can't recall at the moment.
It was held at a quiet hotel by a beautiful lake to the south east of the city. Throughout each day there are a number of audio related seminars of varying levels of technical content. There are also several rooms given over to systems comprising the latest works of the participants. The centrepiece usually comprises a shoot-out of some type of audio device, this year it was Spud amps (amplifiers comprising a single gain stage) but on other occasions it has been horn drivers, phono stages, power supplies, turntables etc. They had a very good 3 piece band playing on friday night and an auction of assorted items donated by participants on the saturday night.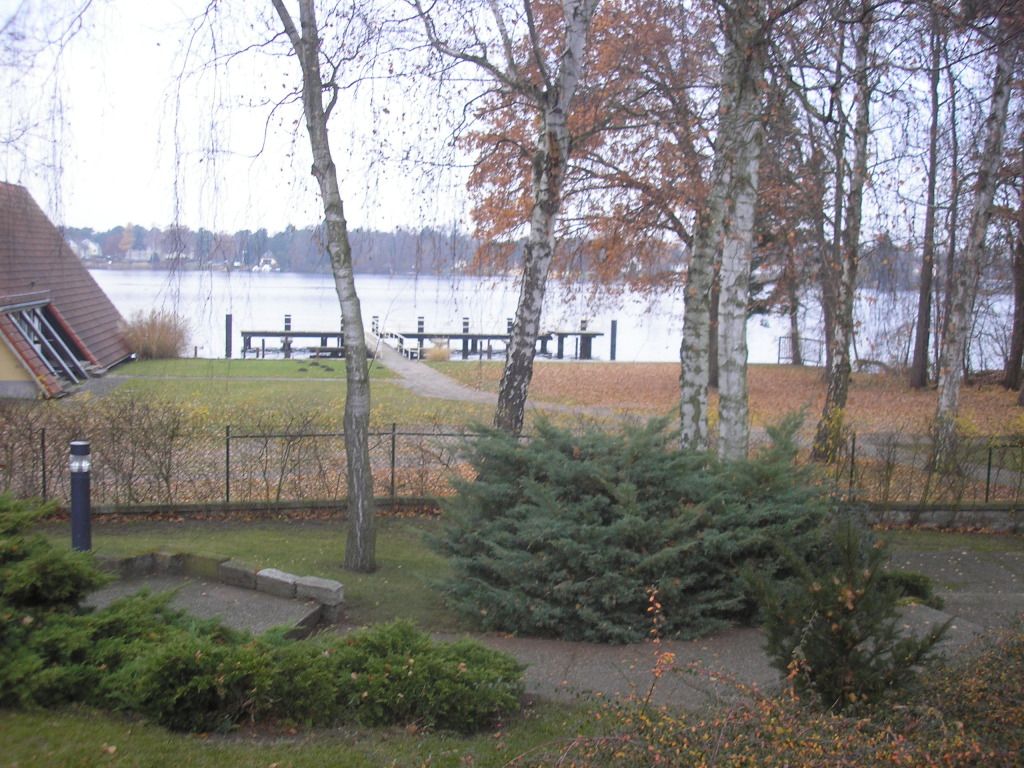 The house system included a huge pair of Siemens Klangfilm cinema speakers with a rather lovely Magnetophon reel to reel machine playing 1st or 2nd generation tapes as the source. This was the combination used to appraise the Spud amps which ranged in power from 0.8W up to about 40W for a couple of amps that seemed to be 'stretching' the definition in their topology.
The speakers in situ: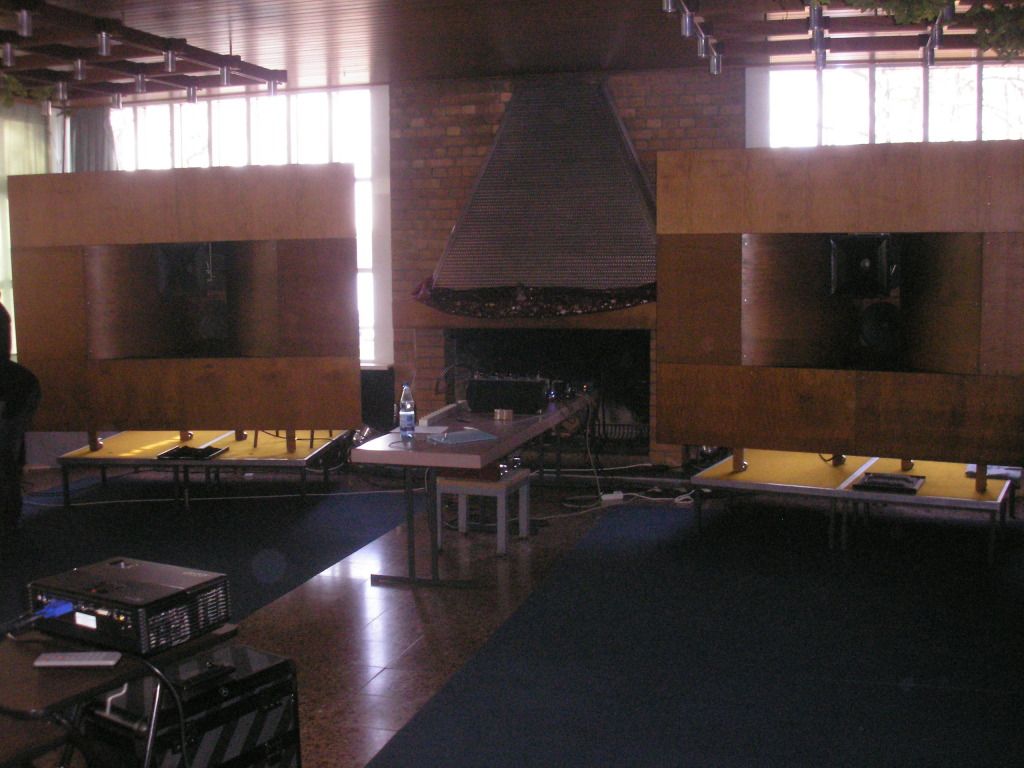 There were twin 15″ units loaded by a horn to the front but open to the rear the large baffle aiding LF response. These speakers sounded very enjoyable although rather too large for most British homes I'd imagine.
Besides the amps being lined up for measuring prior to the shoot-out (this was really to allow the levels to be readily matched via two attenuators as the amps were lined up for comparison in the actual listening session) I immediately noticed 3 rather intriguing looking turntables to one side of the room.
The first of these was a German made Perpetuum which used a belt & idler drive and was fitted with a prototype of the Schroeder pivoted linear tracking arm. All 3 of these decks belonged to FS coming from a collection of 100+ that he's acquired. He has a high regard for this machine despite its undersized platter and has done a small amount of work internally improving it.
Next to that was a British rim drive I hadn't heard of before, made in the late 50's by LG Woollett in London. I get the impression these are pretty rare. I'm told they were last listed in the 1960 Hi Fi Yearbook, priced at £17 17s, almost as much as a Garrard 301 with strobe platter (£18 1s) but with more speed adjustment (+/- 8%).
But perhaps not as rare as the next one which came from the home of a former Neumann (cutting lathes & microphones) director which looked fairly simple until the hefty platter with attached 16mm dia bearing was removed revealing complex internals comprising massive castings and an elaborate drive system employing a wide belt which could engage one of two differently sized idler wheels and which also incorporated a belt tensioner as might be found in a tape recorder. I don't see many objects of HiFi that inspire want but this Neumann TT certainly did.
Continues Here
Tags featured
Check Also
Melco launches the new EX Series The Melco platform takes a major step forward with the …