Sep 28, 2006
7,878
256
128
AKA

Steve
HiFi Trade?

No
No LV owners thread!!??? How rude!
show us your 'emperors new clothes'
ive had a few in my time.....
started with mk1 Auditoriums in cherry.Arrived in a state but help came in the form of Ashley from AVi who supplied drivers FOC. Nice fella. I liked them but never really got them right. A bit fizzy and loose in the bass and I could 'sense' the cabinet.
i bought some exdem Santos rosewood Avatar IIs from tomtom Audio. I loved these but at the time I was saving to get married so they were a temporary thing. Compared the Mk1 Auditorium they were less boxy, more controlled, refined and solid in the bass. A very notable step up IMO.
Lots of Audionotes etc followed! Then Harbeths etc
i dropped on some Maple Avatar IIs cheap and snapped them up. Sounded great but stood out visually ...so...
next... I bought some brand new Avatar IIs from Kevin that were seconds, the cabinets were Santos Rosewood again, my favourite. The experience of buying from Kevin was brilliant, the visit to Definitive quite inspiring.
Sold them to pay for some jobs on the house and regretted it.
Next.... OBXR2s. These were a strip again especially in presence and detail and somehow sounding bigger and more cut loose. Hate the crossovers and hate cherry finish but know I'll regret selling them. Doesn't stop me though
the sale pays for plastering and decorating.
then recently I dropped on some earlier OBXS in Yew. A bit tatty but still look great. I've tried to hide the crossovers but I'll just have to accept them as i
live the sound. I may have to buy new bases as the look scruffy and they have few knocks but with the trafomatic driving them they are the best sound I've had.
Setting up up takes time but rewards with very notable improvements. Get them wrong and they are flabby, boxy do not image at all. Get them right and they are so 'right'.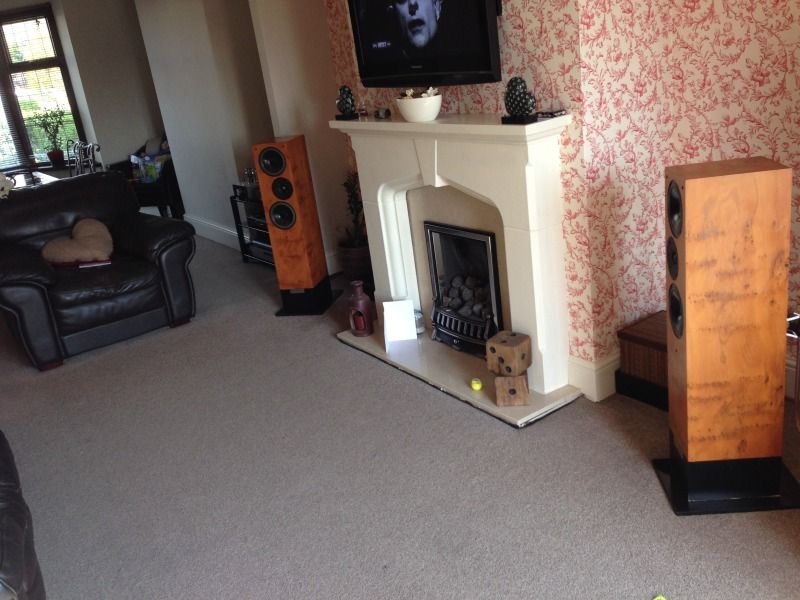 Note the the nutty positioning. Wide and heavy toe in, they disappear and the the image comes together and the balance just slots into place. I know they are a bit marmite but for the price you can pick them up for, they are superb and I've not had better.
Show us your boxes!!!