Strange how some things turn out. Have been contemplating a lesser number of boxes in the rack for a long time mow although making the trade across to something like an integrated amp wasn't high on my list of currentpriorities, especially after having a brief flirtation with a large integrated a short while ago. I was thinking about starting the box number reduction with a one box CDP instead.
Having already had a fewencounters with Musical Fidelity in the past with no less than 2 CD players, 3 pre-amps, 2 DAC's and an integrated amp in the shape of an early model Synthesis, I hadn't for one moment contemplated putting that same name in the frame once more had I progressed towards sourcing a one box amplifier for my system. Again,considering I had recently acquired an Aaron Millenium No3 power amp that was doingnice things in my system and synergising very well with the other components, I wasn't too keen on a major change around either so soon after finding an amp I was happy with for the moment. Whatever then possessed me to put my hand up so quickly when ULTRASONIC announced his intentions to sell his beloved Trivista 300 on this very forum, is beyond me. Anyway, let's cut to the quick now shall we?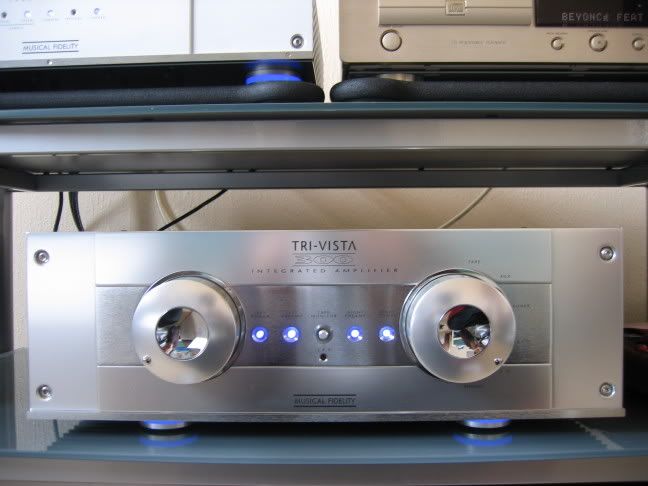 APPEARANCES ARE DECEPTIVE
Look again at that photo above; at first glance it looks an inoffensive little box sat there on the rack, but that photo doesn't give you any sense of scale of how BIG it is in reality. It is a huge behemoth of a device that has resisted all attempts to fit in my rack whereas everything else before has gone in with no problem at all, even a big oversized Vincent integrated amp that I bought a while ago. Weighing in at a mighty 30 kilograms with another 16kgs odd for the power supply, it makes you wonder just how much weight a glass shelf can support before giving way. Coupled with that enormous weight is a set of cast heatsinks either side of the chassis at the exact point you want to manhandle it and within seconds your bare hands/fingers are in great distress from the razor sharp edges believe me, so a pair of folded tea towels were used for this tricky and somewhat painful task. Nor does the picture show the depth of this beast at approaching 20 inches from the tips of the front control knobs to the tips of the speaker binding posts. An interesting feature is the illuminated feet under both the main amplifier unit and the power supply enclosure. The power supply feet light up in a gentle blue glow the moment power is applied, but the main amp goes through almost a "trafffic light" sort of sequence to indicate various stages of the amp's operation. Switch on and they light up in red immediately; this is to inform you the outputs are muted, next they change to amber to signify it has come out of muted phase but now in a warm up phase, then finally a blue colour to tell the user it has reached it's optimum operating temperature - except that it doesn't. Whether you let it just sit there at idle or give it some loud music to play the amber light phase is in the region of nearly 40 minutes, but the real killer to that assertion is if you switch it off once the feet have turned blue and no matter how hot those heatsinks are, it still takes nearly 40 minutes for the feet to change from red to blue once more. This means the lights are rigged to a simple timer and not some sort of thermal sensing circuitry which renders it more as a gimmick than anything of an informative nature. Very disappointed too with the same awful remote control which still carried on the Russian Roulette method of adjustment as all the previous A series MF remotes I have owned. Sometimes it can take 4 or more stabs at a button to provoke some sort of response from it and if the phone is ringing therefore you want to turn down the volume or activate the muting circuit, it takes far too long to accomplish what should be a quick and simple task with multiple frantic jabs on the buttons.
LESS IS MORE - SOMETIMES
Not when we are talking about the number of frisky ponies that reside under the bonnet it isn't. Rated at 350 watts per channel power output into an 8 ohm load and 600 watts per channel into 4 ohms, that figure is utterly meaningless unless it's noise/distortion-free and very well controlled. If I was to ask folks which they would prefer between 15 watts of sweet class A valve sound and a 2kW public address amp I'm pretty confident which one they would choose for delicacy and finesse in sound quality for their hi-fi, but reverse the roles and 15 watts of valve sound probably wouldn't reach across a 4 acre field filled with noisy people would it? I've heard a great number of power amps rated at around the 100 watts per channel mark which have all easily filled quite large rooms with clean effortless sound, so it's almost speculation what was MF's reasoning behind designing 350 watts+ for the average domestic environment. Perhaps the answer to that lies in the listening chapter of this reviewette.
The fit and finish of the casework is truly exemplary. It's visuals are not maybe to everyone's taste and in all honesty I found the abundance of silver colour rather overwhelming, perhaps preferring some light relief from that monotony with maybe a touch of gold highlight to break up that vast expanse of bright reflective colour. I would too have liked either a different colour insert or an LED inset into the source selector and volume control knobs because in low ambient light conditions it's very difficult to see which source has been selected and how high the volume is set with a mere pimple of a dot in the same colour as the knob itself isn't too easily seen from a distance.
While on the "less is more subject", I read with interest some other reviews of this same amplifier and all note a Moving Magnet phono input AND an internally switchable Moving Coil input. The manual makes no mention of this, nor does the Musical Fidelity website, nor have I taken the lid off to see for myself whether it does or it doesn't, but things like this do cause just a little bit of consternation because it suggests they have reviewed an amplifier that might be slightly different than those for general sale. One of them may be mistaken, but all three?
When I received the amp it didn't have a power cord included, so I took a Halo power cord from the KK range and fitted a 16 amp IEC connector to it, although at a later date I will of course try others.
SOUND QUALITY
Despite it's many sins that I have highlighted above, it's still a wonderful amplifier. The Trivista sounds like no other from the Musical Fidelity stable that I have heard to date, including thevenerableold F Series. If you are expecting it to grab your attention immediately within the first bar of music with it's energy, dynamism and raw power you are going to be positively disappointed, because it does indeed do all those things although it's in a refined and controlled manner rather than go for the throat to grab your undivided attention as some other marques do. The word "honesty" sums up all of this amp's sonic traits and what goes in does indeed come out of the other end, with the caveat of course that well recorded music is a delight to listen to and bad recordings are just that, so a list of music you would rather not listen to begins to accumulate quite quickly. This is also compounded by the fact that it is extremely sensitive to the cabling being used and just one change in the wrong direction with interconnect choices leaves a mighty undesirable sound coming out of the speakers, so last night I had around 6 different interconnect cable cocktails ranging from pure silver to red and black freebies being swapped in and out to find the set that would compliment and not clash with the amp's sonic signature. This chapter of the tale is still unresolved, so it may be necessary to do a follow up review once the cabling ancillary issues have been sorted out.
Unlike other big muscle amps the Trivista can easily do delicacy and finesse in spades, it can meticulously scour out the tiniest little nuances in music while at the same time coping with huge crescendos in the background with effortless ease. Bass lines are incredibly easy to follow and whereas other amps make bass notes sound rather samey and lacking in individual character, the Trivista opens up a new palette of tonal colours to distinguish one note from another in perfect control - very welcome in my awful listening room. For example, while listening to my evergreen "Calling Elvis" I have had amps that do bass reasonably well but lose all those finer details lurking deep within in that complicated mix, while others present a bass lacking in body and power while doing a grand job of making Mark Knopfler a bit chesty and the treble just about bordering on the splashy side. With the Trivista though, the seismic bass line is indeed firmly gripped, nice to hear that Mr Knopfler has had his tubes cleaned out and the tiny little microdynamics are perfectly immune to the cacophany that might be going on around them. Two thirds of the way through this same track the drummer changes from sticks to brushes and most amps give you a hint it's somewhere within a 3 second time frame because it occurs within some heavy action, but the Trivista tells you exactly where that change takes place. Uncanny, but true. Crank the volume up and the situation doesn't change one iota which indicates this amp has enormous reserves of power so your speakers and/or hearing threshold will cave in long before the Trivista does. I really would like to know at what sort of sound levels it's likely to clip!
Imaging too is another speciality of the Trivista and while it doesn't reach out beyond the boundaries or scale great heights in presentation so sound appears above the plane of the tweeters, it does though plant everything firmly where it should be within the soundstage without any wavering about at all to create the illusion you could walk between the musicians and instruments. Depth information is also included with that level of high praise and if I had to trade extreme height/width for honest depth I know which I would rather have because it's far more realistic and believable.
To the hard rock and industrial/electronica fans among you it isn't going to compete with the amplifiers that have made their forte with this genre of music, although it doesn't do a shabby job of it either. I played some Y2K last night and the Trivista shrugged it off with ease at a pressure level I had trouble coping with. Jazz, MOR and classical fans will adore it and I'm sure once they have sampled the unique Trivista sound, few other amps are ever likely to replace it.
IN CONCLUSION
At the original c.£4k asking price for new it was very competitive for the performance it offered. Now that you cannot buy a brand new one, it's one of those amps that should not be passed by if one comes along in the secondhand market. I can honestly say that in terms of sound it doesn't warrant any criticism at all because it has taken a complex set of compromises expected from an amplifier and comeupsmelling of roses on all counts.
The $1,000,000 question though is, am I going to keep it? The answer is a resounding "yes" because it has ticked all the right boxes as far as I am concerned in terms of sound quality. It has swept away all those notions that a pre/power combo rules the roost every time because this amp proves they don't. To better it in any way is going to cost really serious amounts of money that I have no inclination at allto spend and onlyget trulymicroscopic benefits above the Trivista in return.
THE NUMBERS GAME
OUTPUT:
Voltage RMS
53 Volts 20Hz to 20kHz
Peak
150 Volts
Power
350 Watts per channel into 8 Ohms (25.5dBW),
600 Watts per channel into 4 Ohms
Peak-to-peak output current
96 Amps
Damping Factor
210
Output devices per channel
8
Pre-output impedance
50 Ohms LINE INPUTS:
Harmonic distortion at 1kHz
< 0.002% up to 90% power into 4 or 8 Ohms
Total harmonic distortion + noise, 20Hz to 20kHz
< 0.007%
Signal / noise ratio
>102dB "A"-weighted
Input sensitivity for 350 Watts into 8 Ohms
330mV
Input impedance
220K Ohms
Overload margin
36dB
Channel separation
>70dB 20Hz to 20kHz
Frequency response
20Hz to 60kHz, +0, -1.2dB
Signal / noise ratio
> 96dB "A"-weighted
Input sensitivity
2.5mV (moving magnet)
Input impedance
47k Ohms
Overload margin
29dB
Power Requirement
100 / 115 / 230VoltsAC 50 / 60Hz (factory pre-set),1200 Watts maximum into 8 Ohms,104 Watts idle
Inputs
5 pairs line level RCA connectors,1 pair phono (moving magnet) RCA connectors
Outputs
2 amplifier channels via 2 pairs per channel binding posts.1 pair RCA audio pre-outputs controlled by the volume setting
Weight
main unit: 30 kg, 66.1 lbs unit only, unboxed
35 kg, 77.2 lbs in shipping carton
P.S.U: 16 kg, 35.3 lbs unit only, unboxed
19 kg, 41.9 lbs in shipping carton
Dimensions
main 483 mm, 19 inches wide
unit: 167 mm, 6.6 inches high incl. feet
480 mm, 18.9 inches deep incl. terminals
P.S.U: 364 mm, 14.4 inches wide167 mm, 6.6 inches high incl. feet
480 mm, 18.9 inches deep incl. terminals
Standard Accessories
IEC type mains lead,
Power supply leads, main (two)
Power supply lead for pre-amplifier
Remote control (Tri-Vista type)