RJC Audio Launch Lamina modular rack
I have a press release here from Bob at RJC Audio about the launch of the new modular Lamina Rack. I've copied it below for you below, but first I wanted to add a few words on my experience with this rack.
Bob knows what a ham fisted DIY disaster zone I am and so used me to test his pre-production model. He reasoned that if I could screw it together anyone could. And that's a fair assumption, I am the full Reg Prescott with anything like this. Hence the state of my kitchen.
So the kit was dropped off and I set to work. I had an ambulance on stand-by, paramedics, the full DIY SOS team on speed dial and a cup of tea with 9 sugars in it. I put a short little pencil behind my ear for authenticity and set to work.
Frankly I have rarely been so disappointed. Within only 5 minutes the rack was fully assembled. I hadn't even needed my pencil. It took one socket and a screw driver and I promise, no more than 5 minutes to assemble.
It wasn't wobbly, I have no unaccounted for spare parts and some months later it is still there with a ton of kit on it! 45kg on the bottom shelf alone in fact!
Here she is: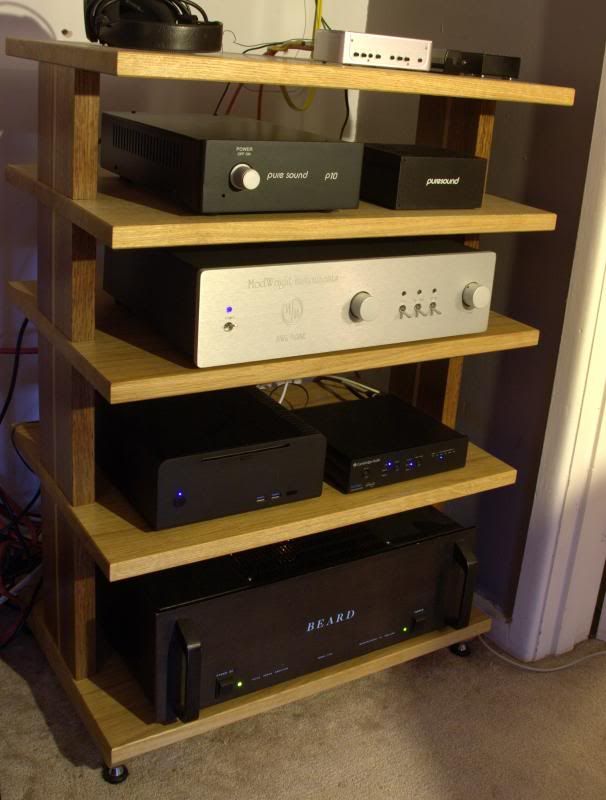 So does it sound good I hear you ask? Well no. It has no sound. It neither detracts nor adds to the sound as far as I can tell. It is simply a very attractive and super sturdy rack. There are none of the RJC isolation devices built in to this. It's designed to be flexible and… well read on, I'll let Bob tell you this bit:
LAMINA MODULAR RACK
RJC Audio are pleased to announce the introduction of the Lamina Modular Rack System.
Hewn from solid Oak, the Lamina Rack has been designed to grow with your needs. Starting with a base section of two shelves fitted with Soundcare Superspike adjustable feet to which additional shelves can be added as required. The whole unit is clamped together by two integral tensioning bars, allowing for simple home assembly.
Available in two widths, 600mm and 1000mm, the Laminar Modular Rack will cope with larger equipment. Height between shelves can be set at 150mm to 350mm in 50mm increments (other heights by request) and can be changed as your equipment develops over the years.
Modular, beautiful, value for money and equally at home in your listening room or the lounge, the Lamina Modular Rack may be the only rack you ever need.
Price List (correct at 25/10/2013)
600mm x 450mm Lamina Modular Rack
2 Shelf Base Unit with adjustable feet – £575
Additional Shelf inc vertical supports – £225
Additional vertical supports (pair) – £75
1000mm x 450mm Lamina Modular Rack
2 Shelf Base Unit with adjustable feet – £875
Additional Shelf inc vertical supports – £345
Additional vertical supports (pair) – £75
Tags featured
Check Also
Optoma has launched its first fully wireless earbuds – NuForce BE Free8. For true wireless …