Royd Abbot brought round a couple of amps that he wanted checking over so I've been having a look/play this morning.
The first was a rather scruffy Nait (original type). At some point someone had cut the mains lead off this so I had to remove what was left of the old one from inside & make up a new one.
This was actually a pretty straightforward job. While I had it upstairs I was interested to see what the power output was. I remember Naim being very coy about this when the amp came out (I had one in 1983!) I measured it at about 12 Watts into 8 ohms.
As I had owned one previouslyI was interested to see how this one sounded. I don't have & couldn't be arsed to make an RCA to Din adaptor to try the line stage (not yet anyway) so I stuck with the phono input. While my normal cartridge is away for a rebuild I've been trying various ones that I've found lying about. My current favourite is a high output Eroica MC. I normally don't like high output MC's but the Eroica is sounding lovely. Very lush, colourful & organised. If the current ones are anything like this one (probably quite old, don't know) then they are a bargain because this is a great little cartridge.
I tried the Nait first with some bookshelf speakers I've been playing with & it worked pretty well. Its not a forward shouty sounding amplifier. It does remind me a bit of the Olive series stuff we heard at Effem's last bake-off but if anything it is better balanced and less obviously 'tailored' than those were. It does still sit on the harmonics of instruments a bit and doesn't play any very high stuff (in an am radio sort of way)
I then switched over to the horn speakers and the 12 watts sounded far more generous & colourful there. Its never going to be a match for some pushpull EL84's (ie Leak Stereo 20 or HiFi World KEL84)but it was tidy & enjoyable enough. You have to say that they used good quality bits in these, no noisiness in the pots & no audible signs of age. Made a good job of replaying the Brahms Piano Concerto No1 I threw at it. All in all quite pleasant although speakers ideally need to be an easy load and on the high side of 90 dB/W.
Once it was up & running i turned my attention to the Audiomaster 11a valve amp. This looks to me like a full on version of the Mullard 5-20 circuit. Huge Partridge mains & output transformers. A Partridge choke inside. All hard wired with PIO caps in the power supply & signal path. They don't make them like this any more.
Here it needs a little TLC
Here it's had some
A view underneath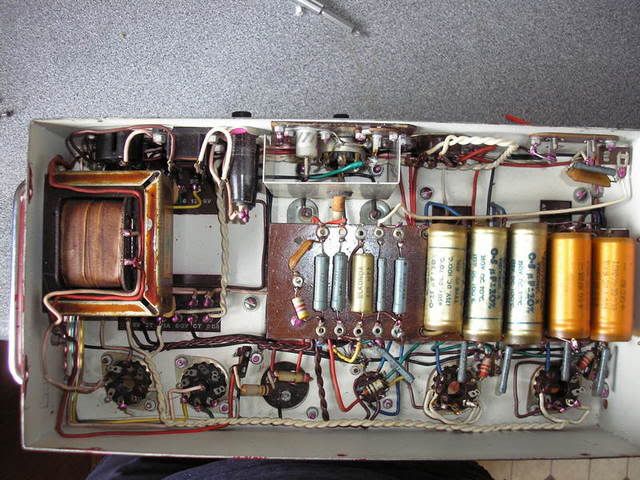 A view from the rear
With the valves in. The original input valves EF86 & ECC83 are Mullards, the GZ34 is a Brimar. I've put in a matched pair of Sovtek EL34's.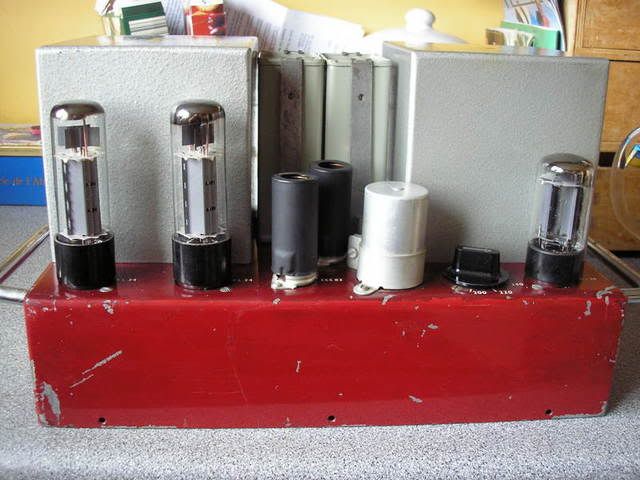 I had to make up a new mains lead for this one too. The first check is the fuses which seemed ok. Then I tried firing it up without the rectifier to check the heaters work. They don't so thats where I'm up to. I must see what's actually getting to & coming out of the mains transformer. Will post more when I get further.