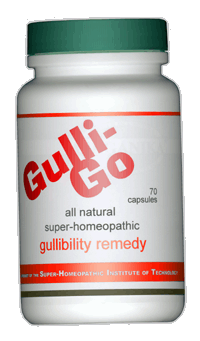 :*:
:*:
:*:
:*:
Wow! This stuff really works! I was expecting Dr Mosfet's GulliGo to cure my audiophoolery and it didn't disappoint!!
Exactly as Dr Mosfet had suggested to me, GulliGo stopped all my fancy cables from working and bevelling the edges of my CDs doesn't make any difference any more.
Dr Mosfet told me GulliGo would start working the moment I placed the order. He wasn't wrong. Even before I got my GulliGo the effects of my audiophoolery just disappeared like magic!
I'm now cured of my gullible suggestibility. Dr Mosfet is a really really nice man.
Thanks Dr Mosfet!
A.Stooge
Hey, thanks for the very genuine unsolicited testimonial.
Yes, GulliGo is the result of years of my own research and a synergistic technology developed by NASA. Even the bottle is made from aeronautical grade plastic. GulliGo is great value at £200. GulliGo is really really good because it costs a lot.
I offer a full 14-day refund on every order of GulliGo - but you won't need that because GulliGo begins to work the moment you believe this bullshit.
* Dr. Mosfet is not a real doctor.