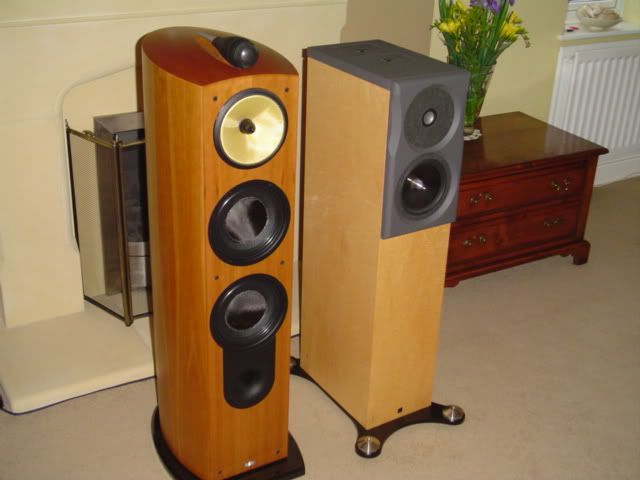 A few thoughts on my new babies...............
My much loved Nautilus 803's finally left the building tonight to start a new life in Earls Court on the end of some MF Nuvista gear. They have been packed up since sunday when the MF5's took over.
I know our esteemed mod PB once ran MF7's (or was it 9's) before ART fever set in. Being a fellow Naimee (albeit on a lower level) Neats enjoy a good reputation on the end of Naim gear.
I had been having nagging audiophool doubts regarding the N803's bass - or lack of it. They certainly do bass but it just was'nt to my taste. My recent replacement of Naim NAP135's for a NAP300 Power amp totally changed my system. The 135's produced a 'wooly' ill defined bass compared to the lean taught sound from the 300. Hearing the prodigous bass produced by Papa's Arcs on the end of JonR's Naim amps also got me wondering further.
Super Tweeters + Isobarik bass loading these rear ported MF5's are more fussy on siting. At least a foot from the rear wall to stop bass boom/bloom. My own musical tastes lean towards the heavy end of the spectrum - I therefore enjoy bass lines at which Naim excels.Until hearing the Neats I did'nt realise quite what 'bass grip' was.
I fully realise that at over £5.2k new with their special birch finish (I got these secondhand bargains at well under half ) these really did ought to be pretty special. These do all the N803's did plus much more of a bottom end presence. Perhaps I should have taken the next logical Nautilus step and gone for 802's, but have always shied away from reviews constantly stating that they need room to work properly.
The MF5's are undoubtedly a 'Rocker's' speaker - if your budget can stretch I would easily recommend. Who knows, the Herts/Bucks wigwam massive may well have a new bake-off venue in the summer (if we ever have one)