http://www.marecordings.com
[align=left]
Technically speaking, the recordings are produced with only two omni-directional microphones, the signals of which are "fed" through exotic audio cabling into handmade and customized recording equipment, designed specifically for MA .
[/align] [align=left]
The MA website brings the newcomer "into the fold" and the enthusiast up to date, and also lists a few of the projects that are to be released in the future. Additionally, the new Series Momentum sub-label is introduced, presenting recordings not necessarily produced by MA, but which are never the less of musical integrity and deserve to be made available to the public.
[/align][align=left]
[/align][align=left]
[/align]
The microphones shown on the cover of this disc, designed and hand constructed by Japanese audiophile and designer Junichi Yonetani, are unique to MA Recordings. Mr. Yonetani has been, over the years, a very enthusiastic supporter of MA, for which I thank him dearly.
The microphones are DC powered, running on four 9 volt batteries. Differentiating them from the common, low level, phantom power variety of microphone, they are line level. Traditional low level microphone cables are done away with completely as they are no longer necessary. The outputs of the MA microphones are fed directly to the recording device, or Analog to Digital converter, in the case of digital recording.
Of utmost importance are the diaphragms utilized to capture sound waves. The MA microphones feature the same diaphragms used in the famous DPA 4003 and DPA 4006 series microphones from Denmark. (
http://www.dpamicrophones.com
)
The body of each MA microphone was machined from a solid piece of brass, then plated with rhodium. Each microphone weighs 701 grams with the standard DPA silver grid. The microphones in the photo are shown with the DPA "Nose Cone" which may be used in place of the silver grid to render the microphones slightly more omnidirectional in character than with the silver grid.
Being as heavy as they are, the MA microphones require custom made holders, made from steel pipe. In order to make fine adjustments in positioning, the holders are fastened onto miniature balljoints designed for professional photography. The ball joints are in turn, placed on an aluminum "stereo bar" which is supported by a professional tripod designed for still photography.
[align=left]
============================================================
[/align]
http://www.mdg.de/
concert hall
?
AKG C-24
, and matched Neumann
U-47s
. I believe that these minimalist recording techniques will give you, the listener, the most transparent sound, the most accurate soundstage and the most life-like ambiance of these great artists in a concert hall.
We use customized vacuum tube microphone preamplifiers instead of a mixer, and our custom interconnect cables. I record analog tape and high definition digital audio (in this case 176,400 samples per second and 24 bit depth).
Steve Hoffman
and
Kevin Gray
mastered these CDs directly from the digital media, re-sampled to 44.1 kilohertz and dithered to 16 bits so that you can play them on a modern CD player. We hope you enjoy them!
===========================================================
http://www.opus3records.com/
D
iscussions of sound nowadays tend to be very much preoccupied with the digital links of the sound reproduction chain, especially where gramophone recordings are concerned. Attention very often focuses exclusively on the type
of A/D converter used, how many bits, the amount of oversampling, how the equipment is specially modified, and so on and so forth.
[align=left]
When Opus 3 started at the end of 1976, there was far more talk about the way in which the actual recording was done purely in terms of recording technique or philosophy - that is, the methodology employed (multi- mike versus twin microphone technique etc.) and the type of recording situation chosen - natural environments or traditional studio technique, and so on.
[/align][align=left]
Whatever the technical apparatus, it is still the actual, recording philosophy that does most to decide what a recording will sound like - a fact which has been virtually lost sight of in the discussion of sound today. The quantity of electronics used in a recording is also highly important. In the type of mixer consoles commonly used in a studio nowadays, the acoustic signal passes through a very large number of amplifier stages - between thirty and forty or more is not unusual! The Opus 3 electronics, which are mainly tube-equipped and which we have partly developed ourselves, seldom include more than three of four amplifier stages between microphone and storage medium.
[/align][align=left]
Opus 3's recording technique has been specially developed for acoustic music and is based on using the natural acoustics of authentic environments such as churches, concert halls, jazz clubs and so on. We match the venue to the music, so to speak, as opposed to the common studio practice of adding an artificial reverberation afterwards and so on. The positioning of the microphone in the recording room and the positioning of the musicians in relation to the microphone are also extremely important.
[/align][align=left]
From the very outset we have used what is known as the coincident or X/Y recording technique, mainly employing the special configuration of crossed figure of eights, also known as the Blumlein technique, after Alan Dower Blumlein, the British radar engineer who developed the technique way back in 1934.
[/align]
===========================================================
http://waterlilyacoustics.com/
Fat & Fastidious
In a global atmosphere of spiritual bankruptcy, humanity drifts into darkness, born of ignorance, that belies man's achievements of technological superiority and material success. Thus it is of great importance that the arts, which exist to enlighten mankind, be cherished and protected more so than ever before. Music, being the most intangible of all the arts, faces the greatest threat and thus demands the utmost priority.
We approach our task of preservation and dissemination in earnest through choosing the proper means and methods to achieve our goals. It is our belief that all recordings of acoustic music should be done in an acoustically suitable environment such as a concert hall, auditorium, or church designed to have good reverberation times, which enhances the timbre of musical instruments, thereby giving them "body." The common practice of recording in an acoustically "dead" studio will invariably destroy all ambient cues, due to the lack of natural reverberation, so important for the enhancement of overtones and the perception of space. Our goal is to preserve the original signal in its purest form so that the tonal purity of instruments is not altered in any artificial manner, and the listener is able to perceive the space in which the recording was made and localize all instruments within the stereo image. We also eschew recording acoustic music, whether it be performed by a soloist, chamber ensemble, or symphony orchestra, with the use of multiple microphones. This theoretically flawed technique is unable to maintain proper phase and amplitude coherence necessary for the precise localization of sounds, and thus a stable stereo image, due to the numerous discrete sampling sources (microphones) spread in time and space. When this is coupled to multi-track recording, as is the practice today, and the balance of the orchestra left to the fancy and whim of the producer and engineer, rather than the conductor, the end result is a travesty of the original event.
To properly capture the sound of music performed in a acoustically suitable environment, it is imperative that the proper microphone technique be employed. Of the many options available, those which conform to the theoretical ideal are the coincident and near-coincident techniques such as Blumlein, Main and Sides, ORTF, and the Dutch Radio method. Recordings made with these microphone techniques will always yield the best stereo image, with proper instrumental localization and the lowest coloration. Other minimalist microphone techniques, such as using two and three spaced omni-directional microphones, are simply not acceptable as they do not conform to the theoretical model, and thus create a confusing stereo image, due to phase anomalies, and coloration, due to comb-filter effects.
It needs to be pointed out that Water Lily Acoustics is among the few record companies utilizing the analog medium exclusively and the theoretically correct, musically accurate Blumlein (coincident) microphone technique. Since all our recordings are done with one stereo pair of microphones, the balance is achieved by placing the microphones in the optimum position in relation to the musicians being recorded and the acoustical environment. This, though a time consuming method, yields the most natural musical balance and the proper ratio of direct-to-reflected sound.
Water Lily Acoustics has chosen all the hardware utilized in recording and mastering with the utmost care and attention to detail. All elements, from microphones to the tape recorder and the mastering chain, have been optimized to yield the very best performance. All our projects are recorded and mastered via the shortest possible signal path, and use no noise-reduction, equalization, compression, or limiting of any sort. Since all our recordings are done direct to two-track, the proper balance is achieved at the time of recording and thus, no signal manipulation is possible nor takes place after wards.
[align=center] [/align]
=========================================================
http://bluecoastrecords.com/
About Blue Coast Records
Blue Coast Records' first release features exceptional acoustic recordings performed live in the studio without the use of headphones, overdubs or digital effects. Label founder, and five time Grammy nominated producer/engineer, Cookie Marenco, assembled a cast of world-class performers, engineers and technicians familiar with her passion for audio excellence and appreciation of skilled musicianship. Her work in A&R at Windham Hill and live recording for Liquid Audio is known throughout the music community.
At a time when the world is overwhelmed with computer music of less than CD quality, Marenco joined with French engineer, Jean Claude Reynaud, to raise the standards of excellence in audio recording for the next generation of audiophiles. Mature listeners will welcome this true sound while new fans may experience acoustic music in its most lifelike form for the first time. While some audiophile labels deliver only great sound, Marenco captures quality performances while at the same time surpassing the artist's own expectations.
The recording sessions for these experiments in sound led to a patent pending recording technique called Extended Sound Environment (E.S.E.). Originally conceptualized for the surround environment, E.S.E. makes use of room and direct microphone placement to optimize full tonal response from the instruments and character of the room while allowing the musicians to position themselves to hear without headphones. Attention to eliminating phase, blending the room and direct mics, creating balanced dynamics, monitoring while recording in surround all under Marenco's production guidance brought stunning results that truly places the listener in an audio hologram of the music. Even untrained ears will find noticeable improvement in the stereo mixes.
The best of technologies new and old were used in the E.S.E. process. Sony provided their latest recording technology, Direct Stream Digital (DSD) - one bit recording at 2.8 million samples per second. To further optimize the signal path, speakers and silver cable manufactured by Jean Marie Reynaud for the French Aerospace Industry linked the mics to the preamps to the console and to the speakers. Millennia preamps and B&K mics captured the sound for the room and instruments. Of the 27 Didric mics existing in the world, two were used for vocals giving the artist freedom to move during recording while providing amazing detail. Marenco chose 2†analog tape with Dolby SR as the multi-track format after comparisons with digital were made. Analog tape still cannot be surpassed for sonic response.
==========================================================
http://www.jmrcds.com/
At JMR we have always used the very best recording and mastering engineers and the best available appropriate technology. Our recordings faithfully document performances taking place in real time in a real acoustic space. All our recordings use only two microphone elements, except our surround version of
Reverie
, which uses four.
We do not use mixers. Equalization has been used only for proper analog tape playback, or if specified by a microphone's designer to correct for off-axis response. We record in true stereo and edit as little as possible. We have never used artificial reverberation or any dynamic processing.
=========================================================
http://www.dorian.com
================================================
http://www.alia-vox.com/
=-======================================================
http://www.acousence.de/
A love of music, therefore, and fascination with the potential it has for affecting us play a central role in our work at ACOUSENCE. In our increasingly technology-dominated multimedia world, it is easy however to forget the main task of music. Only if the expressive force is right can musical recordings provide more than just musical backdrop to paper over silence.
By its nature, a live experience is a one-off process, defined by the ambient situation at the moment of its being heard, the mood of the person, the place where you are sitting, and the performer's form on the day, etc. Musical recordings make the experience repeatable, and in a different context as well. Moreover, the effect can be made more intense, due to a more profound encounter with the composition, as well as systematic adaptation in production terms to the listening situation in the home.
This means that the sound becomes particularly important. A performer always tries to get the very best sound from his/her instrument; for a singer the sound of his/her voice is his/her greatest asset. The most important characteristic of a good concert hall is its sound. The sound is the medium in which the musical message flourishes. Without the right quality of sound, the musical effect cannot take hold.
This value that we attribute to sound as the basis for the communication of the musical message is what characterises our products.
Though generally these will indeed be effective when played on mediocre audio equipment, connoisseurs of high fidelity musical recordings, and who are ready to spare no effort in their pursuit of the highest enjoyment, will discover great potential of sound and musical expression.
Experience, therefore, natural tone colours, full three-dimensionality, plastic sound reproduction, and outstanding musicality, all combined together on CDs and LPs from ACOUSENCE records.
===========================================================
http://www.tonepearls.com
Tone-Pearls Recording Technique is an application of our scientific research of music, tone and hearing. Read more about
Tone-Pearls
.
We intended to develop a recording technique that provides the experience of "to be there". Investigation has shown, that the beneficial effect of Tone-Pearls is more present in
analogue recordings
than in
digital recordings
.
The less manipulation we apply, the more faithful is the recording.
Thus we developed a pure analogue recording technique.
However, the heart of the recording procedure is the effect of Tone-Pearls.
Tone-Pearls Recording Technique
The first step is the idea: The idea of music, performance and musicians. The recording is mostly determined by this first step. You should have a clear idea about the music to be recorded; you should feel in your bones the music.
The second step is to find a place that suits to the music to be recorded. The atmosphere of the venue should be in harmony with the essence of music. The acoustics of the place should be in accordance with the tone-image of the music. We found that venues with history would sound better than new and modern ones.
The third step is the arrangement. After cognition of the venue, we try to find out the ideal arrangement of musical instruments (and musicians), microphones and recording staff (yes, it is very important!). It is a very time consuming process but it essentially determines the final result.
The fourth step is absolutely unique. Having found the almost ideal arrangement, we place Tone-Pearls on different places of the venue according to the principles of music and space.
The fifth step is fine-tuning. We tune and refine the arrangements of everything in the room.
So we are ready to record. The steps above are only the milestones of the pre-recording procedure. There are many fine details, of course, not described above.
Recording equipments
Music is captured by just a single pair of AKG C 414 Limited Edition microphones, directly connected to a Nagra IVS TC reel-to-reel tape recorder with Vovox cables. RMG 468 tapes with 15 ips speed are used for recording.
The carefully placed Tone-pearls are also part of the recording inventory.
Finalizing the master tape
Because the music is recorded direct to stereo, there is no opportunity for mixing or manipulating it, after the recording has been made.
We do not want to manipulate the recordings
. Our experiments revealed that ANY kind of manipulation decrease the quality of recorded music. I mentioned music and not sound. I admit that the sound quality can be improved by post-processing. But music is more than sound. (
Read more about music...
)
We use adequate devices to achieve excellent sound quality. If the recording has been made adequately, there is no need for further improvement of the sound quality later on.
We always use live recording and record entire pieces of music. We do not use cut to create a track from separate recordings.
Additional topics:
The essence of vinyl records
==========================================================
http://www.mapleshaderecords.com/index.php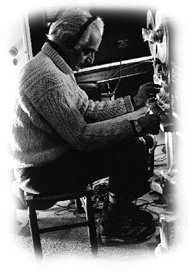 Our recording technology is equally radical. We design and build, or custom-modify, all of our electronics from microphones to tape recorders to wires. All must meet standards well beyond commercial state-of-the-art. We record live to two-track analog, transfer to digital at a rate 100 times faster than the CD standard, and use no add-on EQ, reverb or noise reduction electronics. Our recordings are made with only 2 to 4 microphones and no cables longer than 20 feet. The resulting sound has startling, "in-the-room" clarity, brilliance, spaciousness and dynamics. People with $150 boomboxes, as well as audiophiles with $100,000 systems, tell us our CDs convey far more of the music's excitement than any commercial studio recordings. Mapleshade has 40 current releases and many more in the can waiting to be released. These albums document the music of more than 175 musicians including both noteworthy new talents and established artists such as
Randy Weston
,
David Murray
,
Woody Shaw
,
Gary Bartz
,
Larry Willis
,
Hamiet Bluiett
,
John Hicks
,
Clifford Jordan
,
Walter Davis Jr.
,
Leon Thomas
,
Drink Small
,
Sunnyland Slim
,
Slide Hampton
, and
Shirley Horn
.
[align=left]
Because Mapleshade approaches the recording of music in such a radically different way, the media have given us quite a bit of coverage. McNeil-Lehrer did a 15 minute arts special on Mapleshade; NPR and FM stations across the country have done interview segments. A dozen feature articles on the studio have appeared in major music, audio and audiophile magazines. Our releases are reviewed regularly in major mainstream music magazines, including
Playboy
,
Downbeat
,
Jazz Times
,
Jazziz
, and
CMJ
, as well as leading audiophile journals such as
Stereophile
,
FI
, and
The Absolute Sound
.
[/align][align=left]
[/align][align=left]
===========================================================
[/align][align=left]
http://www.cimprecords.com/
[/align][align=left]
ll engineering and recording is done by Marc Rusch, whose audiophile reputation extends worldwide. Marc works meticulously to capture each musician's true sound. The artists involved have all raved about CIMP's sound: Mark Whitecage echoed his peers when he wrote, "...I've been recorded by some of the best engineers in the business -- David Baker, Rudy Van Gelder, Jon Rosenberg, but Marc Rusch is the first one to give me back exactly what I put in."
CIMP records are produced to provide music that rewards repeated and in-depth listenings. These records are not intended to be background music. Treat CIMP recordings as your private concerts. Give them your undivided attention and they will continually reward you.
CIMP records are digitally recorded live to two tracks. Digital recording allows for a vanishingly low noise floor and tremendous dynamic range. There is no compression, homogenization, eq-ing, post-recording splicing, mixing, or electronic fiddling with CIMP performances. Compressing the dynamic range is what limits the "air" and life of many recordings. Our recordings capture the full dynamic range one would experience in a live concert; many of them have a dynamic swing of over 85dB.
We set our levels so that the maximum signal will not overload the recorder. This means that the average level will be much lower than you are used to. If you set your levels during the loudest passages to be reasonably loud, the rest will fall into place. You may find passages where the signal is almost inaudible. Resist the temptation to turn the volume up; this is the way it sounded when it was recorded and was the dynamic intention of the musicians. In this regard these recordings are demanding. The quieter your system and the lower the noise floor of the listening area the more impressive they will be.
This method is demanding not only for listeners, but for the performers as well,. Musicians must be able to play together in real time. They must understand the dynamics of their instrument and how it relates to the others around them. There is no fix-it-in-the-mix safety; either it works or it doesn't. What you hear is exactly what was played. Real musicians in a real space, interacting musically in real time, recorded for your enjoyment. Though they'll sound great on any system these recordings have not been produced to cater to the limitations of radio airplay and rack systems, but to reward those who have taken the time and energy to assemble a quality playback system.
[/align][align=left]
[/align][align=left]
======================================================
[/align][align=left]
http://www.stockfisch-records.de/stckfish/sf_start.html
[/align][align=left]
========================================================
[/align]
http://www.fone.it/index_en.php
in the world of classical music recording, fonè has for over twenty years been using advanced techniques, aimed at re-creating the atmosphere of the original performance.
Each new recording is the result of an enthusiastic encounter between the art of performance and the art of recording, and aims to reproduce the spirit with which works of the past were executed.
One basic feature, which determines the difference between fonè and other record companies, is the recording of performances in their natural spaces, that is in the places where they were originally presented. This leads to a constant search for suitable locations, and the choice of churches, theatres, country mansions, drawing rooms and so on.
The recordings are carried out with the utmost simplicity, the only way not to do violence to the music: all the equipment is high fidelity; use is made of valve-type paired microphones manufactured in the years 1947 and 1949 (U47, U48 and M49) with an extremely natural and transparent timbre and a bi-microphonic field effect; these microphones have a very important history: they were used to record the Beatles at the Abbey Road Studio and by the RCA for the "Living Stereo" recordings.
No use is made of electronic manipulation or artificial correction of the signal, which while making sound easier to realise also render it unacceptably unnatural.
With this method, the musical information can be transferred to the analogue standard (for Lp virgin vinyl 180 gr.), to the digital standard DSD-SACD (for Super Audio CD) and to the new digital standard DSD-Signoricci (for the Signoricci CD).
fonè uses for the analogue standard Nagra 4S, Studer C37 and J37 and Ampex ATR 102 machines; for the digital standard, in collaboration with Philips the latest DSD (Direct Stream Digital) technology, that has opened the doors to SACD.
For all successive stages of elaboration and control where replay is required, highly sophisticated systems of musical recording are used.
===========================================================
http://www.polyhymnia.com
New Developments
Polyhymnia has a rich tradition, dating back 50 years, of building and modifying our own recording equipment. In fact, for many years all of the equipment used by PolyGram recording studios worldwide was built in Baarn. Some of this equipment, like the PolyGram modular mixer, is still in frequent use. Though originally built in the 70's, this mixer has been continually updated, and still performs at current state-of-the-art levels.
Polyhymnia's test bench contains a complete set of top-of-the-line test equipment, including the Audio Precision System 2 Dual Domain and the Prism D-Scope. We demand top technical performances from all of our equipment, and often find technical problems that manufacturers have missed. Even so, measurements can't tell the whole story and listening tests remain vitally important. If it doesn't sound good, what's the point?
About 12 years ago, Polyhymnia, then the Philips Classics Recording Centre, embarked on a plan to upgrade the entire analogue signal path, from the microphones through the entire recording and playback chain. This was in contrast to the totally digital recording chain adopted by many other recording studios. Our reasoning was that digital equipment was not yet fully developed, and that good analogue equipment could still out-perform digital equipment (especially AD's and DA's) in many areas. In fact, improving the analogue electronics provides clearly audible improvements for every format, from CD to Super Audio CD to DVD-Audio and DVD-Video.
Cables
The first item to be upgraded was our cabling. For this, we contacted the well-known Dutch cable guru, A.J. van den Hul, who designed microphone cables and multi-cables especially for us. Features of these cables include double screening (triple screening for the multi-cables), low capacitance, strength for hanging (a kevlar thread is included!), and almost non-existent microphonics (handling noise). Several kilometers of these cables now form the basis of every recording session, as well as the infrastructure of our studios. Van den Hul also provides much of our digital cabling (low jitter and low signal loss) and all of our loudspeaker cable. For more information, visit
http://www.vandenhul.com
Microphone Pre-amp
The second item to be re-designed was the microphone pre-amplifiers. This critical part of the recording chain must amplify the miniscule signal from the microphone to a level suitable for AD converters or further processing. In professional applications this is often complicated by interference from electromagnetic fields in the recording space or along the cable runs. Modern technology hasn't made this easier – everyone in Europe recognizes the typical beep-beep-beep of GSM interference. This is not what you want on your Super Audio CD recording…
Polyhymnia Microphone Pre-amp
Jeroen Olde-Dubbelink spent several years perfecting the design of the Polyhymnia microphone pre-amplifiers. They had to be "interference-proof", able to drive long cables, and surpass the audio performance of any available design. Jeroen's design combines extreme immunity to interference, high input impedance (ideal for condenser microphones, the only type we use), wide frequency response (0.1 – 150 kHz), a completely balanced signal path, and low distortion (lower than our state-of-the-art Audio Precision System 2 measurement set). It also includes a unique output stage, which eliminates ground loops, works seamlessly with both balanced and unbalanced inputs, and can deliver high signal levels over extremely long cables. You can even mix with it by putting the channels into series.
Polyhymia currently has approximately 100 channels of these pre-amps, which are used for all of our recordings.
Technica del Arte console in Studio 1
Mixer
The next item to be modified was our existing PolyGram analogue mixers. These mixers, built in the 1970's especially for PolyGram's classical labels, had already been modified several times. The most recent modifications included replacing all of the op-amps with low-offset Burr-Brown models, and removing all of the capacitors in the signal chain, resulting in a fully DC-coupled mixer. Surround monitoring has also recently been integrated into the console. Polyhymnia now has a recording chain, from microphone through mixer, without any electrolytic capacitors or transformers in the chain, and with extremely high bandwidth (more than 150 kHz), extremely low distortion, and low noise.
Microphone Electronics
The final stage of the recording electronics to be tackled was the internal electronics of the microphones. Though Polyhymnia uses only the best microphones from the leading microphone manufacturers (Neumann, Schoeps, Danish Pro Audio, Sennheiser), we were convinced that better results could be achieved with improved electronics. Again Jeroen Olde-Dubbelink spent a great deal of time perfecting his design. The microphone electronics needed to work on standard 48V phantom, be interference-proof, and be easily modified to work with many different microphone models.
Polyhymnia microphone Buffer amplifier
Again Jeroen came up with a completely balanced circuit, including even a "dummy capsule" to balance the microphone capsule. Again the design is very high bandwidth, from well beneath 1 Hz to well over 200 khz (both high- and low-frequency cutoff is determined by the capsule itself). The electronics work with extremely high impedance (20 gigaohm) for the capsule load, and an extremely low output impedence of 8 ohms (ideal for driving long cables). The electronics are made with the thick-film ceramic techniques generally used to build satellite electronics. Models have been built for Danish Pro Audio microphones (4006 omni and 4011 cardiod), Neumann 100 series, and Schoeps Colette series.
The audible results achieved have been remarkable; we can finally hear the true sound of the microphone capsules! Particularly impressive are the results achieved with the Neumann microphones; before modification these were good microphones, but not microphones we would have used for the main systems. After modification with our new electronics they have become some of our favorite microphones. We have now modified approximately 125 of our microphones, and use these modified microphones for all of our recordings.
Surround Controller
With the arrival of high-resolution surround recording, we found ourselves in need of a high-quality surround playback controller, but were unable to find a suitable unit from any manufacturer. So we built our own…
Polyhymnia Surround Controller
Ko Witteveen (a former Philips Classics engineer) and Jean-Marie Geijsen designed the unit, based on existing Olde-Dubbelink designed electronics. The unit is completely balanced; features include an overall level control (via a six-layer Elma switch), source selection, and individual level trim and mute for each channel. The output section is electronically balanced (no transformers), works equally well with balanced or unbalanced inputs, and is immune to ground loops. Bandwidth is from 0.1 Hz to 200 kHz. Distortion is unmeasurable.
Tape recorders redefined
In the last year we have seen an increase in the use of our analogue master recorders. It is well-known that analogue master tapes often contain far more and better signals than those produced by normal tape recorders. This is mainly due to the fact that analogue tape recorders, measured by current standards, have poorly designed playback electronics.
Studer A80 1/2" Recorder Deck (detail)
At the end of 2002 we decided to modify our two- and four-track Studer A80 master recorders with new cabling, and replace the playback electronics with our own microphone pre-amplifiers. The results have been astonishing and our mastering studio is now equipped with these modified recorders.
Feel free to
contact
us for a demo to hear the difference for yourself.
==============================================
http://www.kuk-art.com/English/index-alt.html
=============================================
http://www.bis.se/index.php
Example of a typical BIS microphone setup for large orchestra:
Main mics: spaced omnis, for example TLM 50 or KM 130 (all Neumann), if also surround sometimes an additional Center mic mostly of the same type as the AB configuration.
Surround mics: could be anything from omnis to figure of eight, depending very much on the hall and the music.
Spot mics: KM 143s, 184s, TLM 149s and other members of the Neumann family depending on instruments and/or musical content and/or hall specifics.
Distances, angles etc. run within a certain frame but are adjusted to the acoustical environment one has to cope with
This is of course only a 'shopping list' and if further interested can be cooked into a meal within a more private conversation but definitely not on this Forum!
Let me use this opportunity to say that real relevant questions like microphone placement and types etc. are so much more rewarding to discuss than the lately slightly overblown recording format dispute...
The reason that many people think that BIS has a rather high score in 'good sound' is simply that we at BIS agree on certain fundamental sound ideas. That includes also the importance of certain elements which may lead towards a good recording. Terms like 'openness, no coloration, impact, smoothness, personality, naturalness etc.' are all words we try to commit ourselves to.
And I must totally disagree with anybody who claims that just because a recording is not done all the way in the DSD domain, it cannot live up towards that goal. Just because one is believing in something very strongly doesn't make it more true...
Anyway, this discussion is an endless one and the positive thing I can still see with some of these strongly minded opinions within this Forum is that as long there is a discussion there is an interest and somebody who cares! And that is definitely the case for BIS and all its contributors!
At last some idea for people who are willing to look a bit behind the scenes before making all these assumptions and black-and-white comments. I strongly recommend to try to come to a recording session (any label not just BIS) and see first-hand what is it all about! For our label not so difficult because we do recordings in almost any possibe (or impossible) place on this planet.
See you there,
Ingo Petry,
Record producer, sound engineer, BIS Records
[align=left]
================================================================
[/align][align=left]
http://www.delosmusic.com
[/align][align=left]
[/align]
[align=left]
[/align]